The 2012 ATCC and APTCCs were held across the weekend of the 27 – 29 April, in St David's Park in Hobart.  Tasmania's reputation for rain and cold proved undeserved, as despite snow on Mt Wellington, the competition mainly enjoyed glorious autumn sunshine.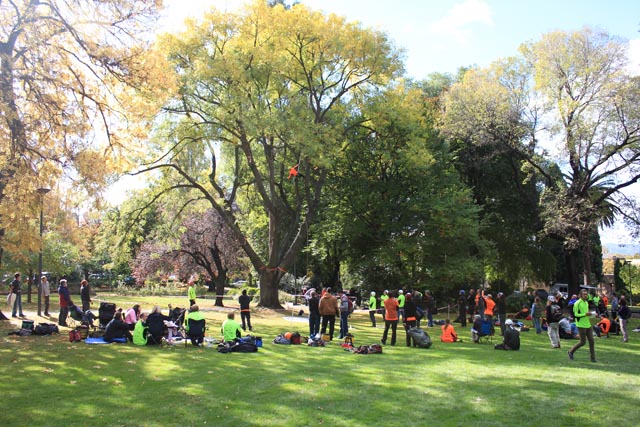 picture: David Cullen
into trees climber Joe Harris has retained the Australian championship, and will be representing Australia in the ITCC in Portland, Oregon in August.  Fellow let this one run roadtripper Kiah Martin is also heading stateside, having taken the womens' Asia-Pacific title for the second year in a row.  In addition, Australia's new womens' tree climbing champion Julia Chilcott, of Tree Tech in Cairns, will be putting on the green-and-gold in August: three chances for an Australian to bring home an ITCC title.   
Congratulations are also due to James Kilpatrick, who has taken out the AP mens' title for the third year in a row.  The AP Masters climb was pitched by Grant Cody in a large elm: in the end only two climbers managed to finish in time.  Thanks to all the volunteers, judges, officials and climbers who made the weekend so succesful – see you all at the next one!