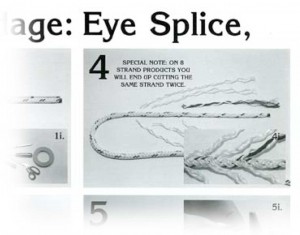 into trees is proud to announce that Joe Harris has become the third Yale Cordage certified splicer in Australia.  Thanks are due to John Canning and the ATRAES group, who made this possible. 
John included this writeup in a recent news post on the ATRAES site:
John Canning has just returned from his annual road trip to the USA. During his visit to Yale Cordage he undertook his annual Yale Cordage Splicer Certification Program as well as submitting into trees climber and ATRAES Partner Joe Harris's certification kits. Good news all around. John passed all his certifications for the 12th time since 2000. Joe also passed all his certifications with flying colours. This is a great achievemnt for Joe, and adds nicely to his growing list of Arboricuture industry credentials which also recently expanded to include Australian Tree Climbing Champion. Anyone who has undertaken these certifications knows it is nowhere near as easy as you would think. Yale are extremely particular about their splicng requirements. It is not only a matter of meeting the break requirements but also correct process and methods. A high break doesn't neccessarily guarantee a pass. Congratulations Joe on joining the ranks of ATRAES Yale factory certified splicers!! Congratulations also to Bill Rouse who also re certified his splicing qualifications for the 10th year.
We would like to take this moment to remember our friend Scott Sharpe, Australia's leading splicer and rope expert.  Scott was also strongly associated with ATRAES, and had held the status of certified splicer for several years, until his tragic death in August 2010.